In the current era of increasing housing expenses, prospective homebuyers are exploring solutions to make homeownership more accessible. One emerging trend is multi-generational living, where two or more adult generations reside together in one household, encompassing siblings, parents, or grandparents. This summary provides an overview of why this option is gaining popularity among buyers, offering insights to help you determine if it might be a suitable choice for you.
Reasons To Buy a Multi-Generational Home
A recent study by the National Association of Realtors (NAR) indicates that the primary reasons for the increasing popularity of multi-generational homes are affordability-related factors.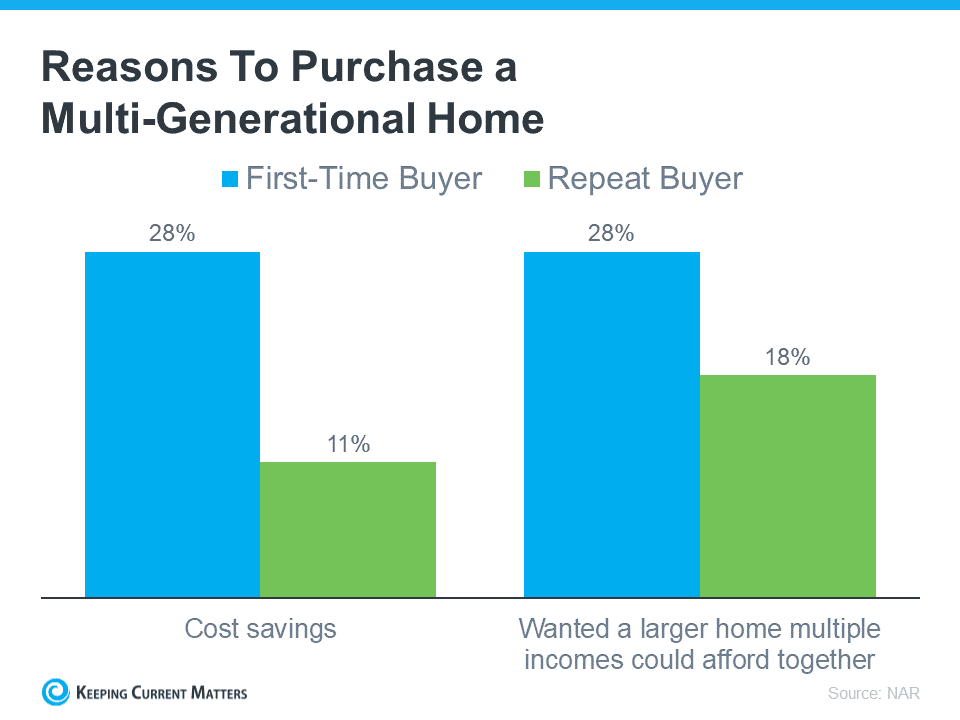 Cost Savings: A significant percentage of first-time buyers (28%) and repeat buyers (11%) are opting for multi-generational homes to reduce costs. By combining resources, households can share financial responsibilities, making homeownership more affordable. This collaborative approach is particularly beneficial for first-time buyers facing challenges in affording a home independently in the current market.
More Space: Approximately 28% of first-time buyers and 18% of repeat buyers are seeking larger homes that were previously financially out of reach. Some repeat buyers are motivated by the need to accommodate both older parents and returning young adults, allowing for combined incomes to make the dream of a more spacious home achievable.
"Choosing multi-gen living allows people to purchase a home much larger than they could afford on their own by leveraging the combined income, credit and a down payment of those that they will be occupying the home with."
Lean on an Expert
To explore multi-generational homes successfully, team up with a local real estate agent. Unlike searching for a standard home, finding the ideal multi-generational space is more complex due to diverse opinions and needs within the household.
To create a harmonious home that accommodates everyone's needs, including shared and adaptable spaces, your real estate agent, with their expertise and local knowledge, plays a crucial role. They can assist in finding a comfortable home that meets your requirements without exceeding your budget, as highlighted by MoneyGeek.com.
"Having a good multigenerational property can improve the prospects of success when living with loved ones. A multigenerational home should fit the specific needs of most family members regardless of age or health. Speaking to a real estate agent can help you gain clarity and locate a fit."
Bottom Line
Purchasing a multi-generational home is a strategic solution for overcoming affordability challenges. By sharing expenses with loved ones, homeownership becomes more achievable. If this option resonates with you, let's chat to find the ideal home for you.
For more info and to schedule a meeting, email us at [email protected]