Are you delaying selling your house because you think people aren't buying due to high mortgage rates? Don't worry, the latest data indicates that there are still many buyers in the market who are buying homes. Here's the evidence to support this.
The ShowingTime Showing Index measures how many buyers are visiting homes for sale. The graph below shows the most recent data and compares it to the same month in previous years without disruptions, revealing how actively buyers are currently looking at homes.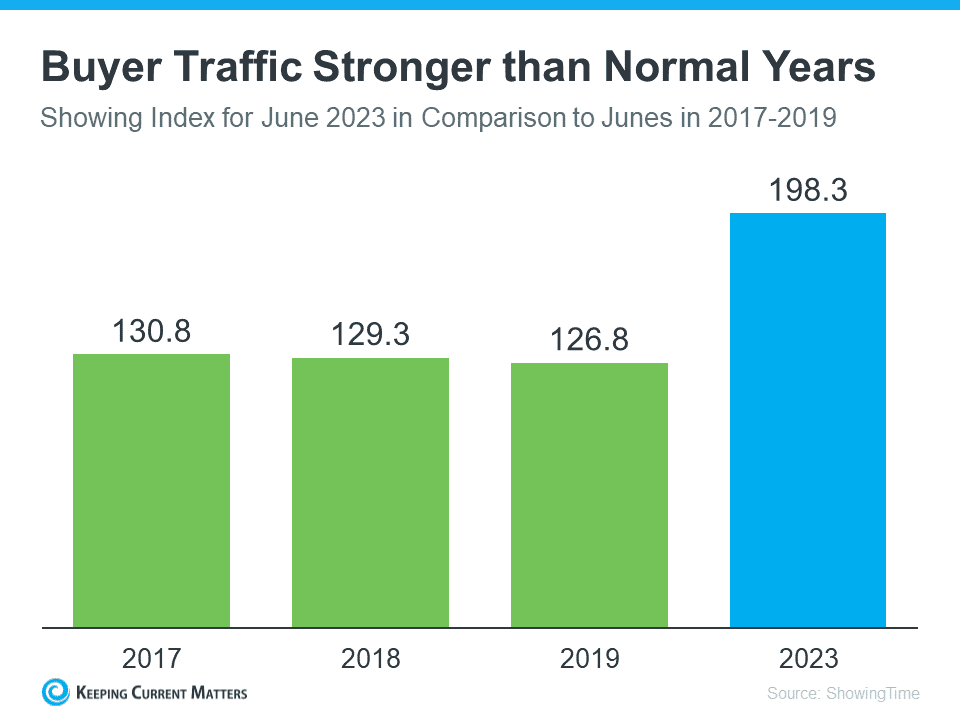 In June 2023, if we compare the current housing market numbers to what is usually expected during this time of year, it's evident that there are still many buyers participating. In fact, they are even more active than what is normally seen.
People might be wondering how this can be true, but it's happening because buyers are becoming more accustomed to higher mortgage rates and are starting to see them as the new normal. Danielle Hale, who is the Chief Economist at Realtor.com, explains this phenomenon.
"Interest rate hikes continue to further cut into buyers' purchasing power, although they appear to have adapted to the higher mortgage rate environment . . ."
Basically, it means that people who want to buy things will always need to buy them. And those who have enough money to move or make purchases with the current prices will go ahead and do it.
The Key Takeaway for You
Although the fast-paced activity of the past few years has decreased, the current real estate market is not inactive. People interested in buying homes are still actively looking, even with the current mortgage rates. This means that there is still a demand for houses. So, if you're thinking of selling your house, there's no need to wait since there are buyers out there.
Bottom Line
Don't delay your plans due to fears of not finding buyers for your house. In reality, there are more active buyers than usual. Reach out to us to prepare your home for sale and we will help you navigate the process. This will create a great first impression on the enthusiastic buyers.
For more info, go to TeamPrerana.com or email us at [email protected]