When selling your house, navigating market conditions and personal needs are crucial. The limited availability of homes for sale can work to your advantage. Let's explore the current inventory landscape and understand its implications for your selling journey.
The Supply of Homes for Sale Is Far Below the Norm Right Now
Selling becomes easier when the item is both in demand and scarce. This principle holds true in the current housing market, where high demand meets low housing inventory. With more buyers seeking homes than available listings, the scarcity factor makes properties even more appealing and desirable.
In illustrating the scarcity of available homes, the latest data from Realtor.com reveals a significant decrease in active listings for September compared to the usual market figures. The graph below visually represents this decline, providing a clear snapshot of the current state of low inventory in the real estate market.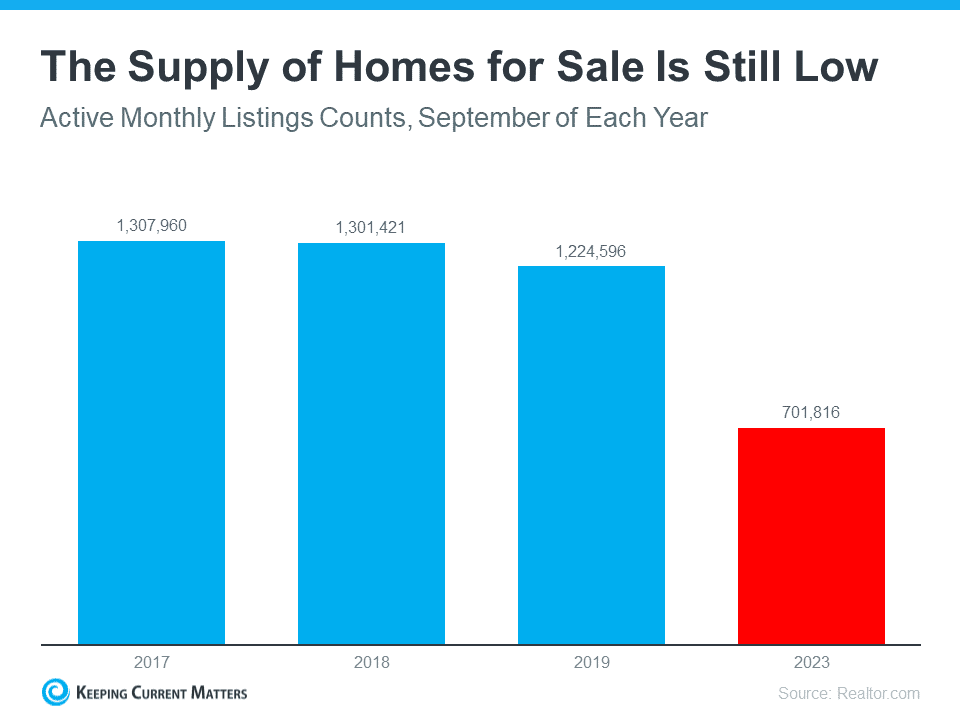 In comparing the graph, it's evident that the current year's inventory, represented by the red bar, remains significantly lower than the average, as indicated by the blue bars representing the last few normal years in the market.
What That Means for You
In the current real estate market, buyers face limited choices compared to typical years. This scarcity is advantageous for sellers, as well-priced homes are selling rapidly, with the average seller receiving multiple offers. According to the National Association of Realtors (NAR) Confidence Index:
69% of homes sell in under a month.

Recently sold homes receive an average of 2.6 offers, highlighting the competitive nature of the market.
Bottom Line
In a market with limited home supply, buyers crave more options, making your house a potential sought-after choice. Let's get together and discuss how listing your property at the optimal market price increases the likelihood of a swift sale, possibly attracting multiple offers. We are always here to help!
For more info and schedule a meeting, email us at [email protected]